Freedom's Story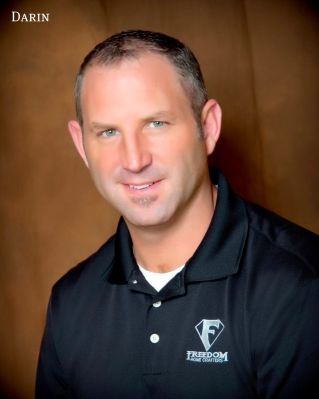 When I was young, my grades were a little below average, to say the least. One day, after many years of watching my school work-ethic decline, my Dad said, "Let's go for a ride." He drove directly to the worst part of town, where the homes were…undesirable to live in.
He said to me, "Son, if you don't get yourself straightened out and you don't bring your grades up, you're going to end up living here! It's important for you to do your best, and I know that you can do better."
My dad was right. I was not a dumb kid; I just never applied myself, as far as school was concerned. Growing up, my Father worked two jobs, in order to put my mother through college. She eventually finished school and went on to be a second grade teacher, pouring herself into her students until she retired.
My parents have always worked hard and expected me to do the same. As a kid, I mowed lawns, had a paper route, cleaned office buildings, and at age 16, when I was old enough to be hired, worked fast food, where I soon became the youngest shift manager they had ever hired.
When I graduated High School, I knew I wasn't ready for college, so I joined the military. I worked as an F-16 Fighter Jet Crew Chief—that's just fancy wording for "jet mechanic". I was one of the top in my class. (It's amazing what a person can achieve when they apply themselves, just like my dad had tried to tell me). While in the Air Force, I had the opportunity to see the world; I was stationed in Japan for two years and even took a college course on how to speak Japanese.
While I was off serving our Country and learning about different cultures, my dad, who was well known in town, was asked to head up sales for a new company that specialized in home improvements. He prospered because he had the insight to look beyond the present and see the future of the business. After four years, when the company decided to change the way they worked, my dad was asked to buy-out the installation side of it all, making him owner over the business. That was the moment our company was born.
Back in Japan, with plans to return home after my enlistment was up, I got a call from my dad. He said, "I need your help son. I'm not sure how to pay you, but we can work together." So I returned home in 1993, my family in tow, ready to start a new adventure. I remember falling in love with the endless possibilities of what we could do with our customer's homes. Being able to enhance the appearance and performance of houses and seeing a finished product was satisfying.
I started by doing job-site cleanup and installation, before moving into sales. My dad taught me the value of serving others while working hard. We have always believed in the GOLDEN RULE philosophy, "Do unto others that which you would have done unto you," meaning, treat people how you want to be treated. This motto has truly served us well in our business ventures.
Throughout our years of working together, my dad and I have been on a mission to continuously build and grow our relationships with our employees and our customers. The Freedom Home Crafters' name originated from the idea of being able to offer Freedom to those we serve. We emphasize Freedom from maintenance, Freedom from higher energy bills, and the Great Freedom we have as a nation. The Home Crafters' name portrays the quality of service that we provide.
We are a company where customers are family.
Our business has continued to flourish, despite a few setbacks. My father, after having a heart attack and bypass surgery, has taken a less-active role in the day-to-day business but is still very much a part of its daily success. I appreciate what my parents have taught me about hard work and serving others, and I know that these traits will forever remain a part of Freedom Home Crafters.
Darin Robinson
President/Owner